Link building outreach is a tough endeavor. We've found some great link targets for our clients but have very little success in our email outreach. Can you provide some tips to best refine our link outreach efforts and convert more of these opportunities for our clients in 2014?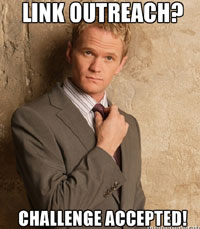 Answer: If a link is easy to get it's not a quality link. There is no better evidence to support this than when one conducts link building outreach by email. This type of outreach is notorious for having a low conversion rate.
How many of you reading this have spent hours conducting extensive link research to find just the right linking opportunity for your client? You've studied the site, you've tracked down the right contact information for the Webmaster, and you've written and rewritten your initial link pitch multiple times. You've even sent a follow-up, and then maybe one more, and weeks later you realize that the result of all your outreach emails was…nothing. No link and in most cases, no response.
You're not alone. We get link outreach requests ourselves all the time, sometimes four to five times a day. Most of them are truly horrible; a select few, though are, not so bad. Those that aren't horrible share some specific characteristics and they are simple tips that we as link builders utilize in our own outreach efforts and which we know will be effective in yours.
As such, if you are conducting email link outreach for your clients (and you should be) here are some best practices and tips that will help dramatically increase your conversion success:
Pro Tip: Be wary of reciprocal links. Clearly if the link to be garnered has value and is niche-related then don't disqualify it out-of-hand. But steering the link target away from links like this (and links labeled as sponsored) should always be a major goal. If that means you agree to pay for some other advertising or sponsored package on their site for a couple of months (with the goal here being that you get the regular natural, non-sponsored link as a permanent placement) then that is a small price to pay.
Email link outreach isn't easy but you can dramatically increase its effectiveness by leveraging our five above best practices. Personally, we've found that creating some kind of need or benefit-based relationship with the link target to be the most effective method in garnering natural, high-quality, editorially-given links. Implement that technique, and your future link outreach conversion efforts should noticeably improve.

By Casey Markee, Writer & Lead SEO Consultant, Planet Ocean